Managed VPS For WordPress
Load WordPress in 1 sec. Fully-managed VPS hosting that's built for WordPress from $12.49/MO
50K

MONTHLY VIEWS

25 GB

SSD VPS STORAGE

1,000 GB

BANDWIDTH



100K

MONTHLY VIEWS

40 GB

SSD VPS STORAGE

2,000 GB

BANDWIDTH



500K

MONTHLY VIEWS

60 GB

SSD VPS STORAGE

3,000 GB

BANDWIDTH



1M

MONTHLY VIEWS

100 GB

SSD VPS STORAGE

4,000 GB

BANDWIDTH



50K

MONTHLY VIEWS

25 GB

SSD VPS STORAGE

1,000 GB

BANDWIDTH



100K

MONTHLY VIEWS

40 GB

SSD VPS STORAGE

2,000 GB

BANDWIDTH



500K

MONTHLY VIEWS

60 GB

SSD VPS STORAGE

3,000 GB

BANDWIDTH



1M

MONTHLY VIEWS

100 GB

SSD VPS STORAGE

4,000 GB

BANDWIDTH



A temporary SSL browser warning appears when first setting up your server.
Read WPjane set up guide on how to remove.
Free nightly backups
24x7 tech support
Fully-managed
No overage fees
SSD VPS
Multisite not supported
Private traffic firewall
Supports emails
Free migrations
Assisted WooCommerce set-up
Dedicated IP
Access backend files
How does it work?
WordPress is written in a code language called PHP. We took the source code and came up with a smarter way for how a server should build your pages.
What you see on your monitor, from HTML, to CSS (Cascading StyleSheets), and Javascript—which themes use to run in your browser—all work more efficiently.
Everything else about WordPress stays the same.
Give better user experiences
WordPress's PHP core is made up of objects and classes. Starting in the engine, we redesigned how the building blocks of the code get read to give better runtime.
Plugins make better calls
With a faster PHP reading, the stuff in the WordPress code that plugins need to talk to (that geeks call hooks and functions), are better integrated with the server.
Make Googlebot's day
Recent changes in the way Google analyzes site structure mean Googlebot rewards efficiency. WPjane loads your content faster for better SEO rankings.
Free with every WPjane plan
WordPress now powers over 30% of the top 1M sites globally. Dozens of big companies use it. In addition to a powerful VPS hosting environment, WPjane enhances ordinary WP hosting with free fully-managed features:
Free nightly backups
Made a mistake? Need to undelete an entire directory? You'll need a girl with a time machine. With WPjane your site is backed up free every 24 hours, so you can always go back to a restoration point.
No overage fees
If you hit the front page of reddit, we'll absorb the costs of a traffic spike. Each wpjane account has a free 10 hour overage period to exceed plan bandwidth. You won't be nickeled and dimed.
Free SSL certificate
HostJane will install a free SSL certificate on any server that has a fully-propagated domain name pointing to its A-record. When you have finished pointing your domain, open a ticket to request your free SSL.
Here's Proof.
An archived public Pingdom test verifies jane loaded WordPress regular base files in 124 milliseconds.
Demo site: wpjane.hostjane.com
In the demo, we deliberately picked an old and unsupported WordPress theme called Frank to test WPjane. No Content Delivery Network (CDN) or server-side caching was applied.
Choose from 17 VPS locations
As a valued WPjane customer of HostJane, you get access to our 10GbE fully-redundant global VPS network. At checkout, choose a server location closest to where your intended audience is located.
How to set up your WPjane VPS
Palo Alto

Seattle

Los Angeles

Dallas

Atlanta

New York

Chicago

NJ

Baltimore

Miami

Amsterdam

Paris

London

Frankfurt

Singapore

Tokyo

Sydney
Level the playing field
A local coffee business on Australia's Gold Coast used WPjane to load their online shop faster than Starbuck's Australian .com.au franchise.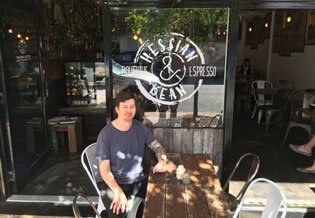 Sam Ladson
Business owner
"We explored a few website designers and we found HostJane to be the most professional, passionate, and thorough."
A fresh coffee challenge
Before business owner Sam Ladson sold his successful gourmet coffee shop, Hessian & Bean, in Australia for his dream farm life in Tasmania, Sam had one goal. To rocket online sales, Sam needed his WooCommerce site to load faster than Starbucks.com.au. Sam first turned to Envato Market's ThemeForest to find a premium WordPress theme with good reviews. The problem was that it loaded too slow on his old web host.
Faster with WPjane
Within 24 hours of being on WPjane, Google PageSpeed had given Sam's shop an A grade in both desktop and mobile. A GTmetrix showed Hessian loaded in 800 ms load time. Using WPjane, Sam strengthened his online sales. He bought his dream house in the countryside. Sam let us keep his old WooCommerce site as a public case example. Even heavy sites can load faster.
Frequently asked questions
WordPress is the gold standard. We stopped our "website builder" service because WordPress helps people build better websites and to do more online.
Got more questions? E-mail us or start a live chat.
Imagine the server that runs your WordPress site being placed in a science incubator, where everything that happens on the server is controlled, optimized and streamlined with a series of dials.
That's our vision and why, unlike average hosts, HostJane hires computer scientists and people who have studied this at university. Because to us, hosting is a science.
Put simply managed WordPress hosting means that an expert technician monitors the server at intervals throughout the day and makes constant small adjustments to ensure a perfect balance and fast loading.
Unmanaged hosting means you have to do all that yourself and deal with any events that crop up using the command line interface, which is specialist territory.
Read complete A-record guide in WPjane help docs
You will need to login to your domain registrar and create an A-Record to connect your web domain to your WPjane VPS server at a unique IP address.
Contact your registrar if you need help with adding or changing an A-Record.
Below are links to instructions from the largest domain registrars on how to create your domain's A-Record. Please contact your registrar if you need help.
Yes. You need to open a ticket with HostJane's support team once your domain has finished propagating to the server. We will install your free SSL certificate for you.
The main point is that HostJane has actually opened up the source code of WordPress, cracked open our own servers, and re-designed the way your server actually reads WordPress to make it faster and more fluid.
Every line of code that makes up the server's processing in running software has been specially optimized and designed around WordPress's unique code layout.
Best of all, our servers are smart enough to learn from their "experiences" as intelligent computers, and are being constantly improved to refine WordPress hosting to an exact science.
Yes, you can install any theme either through the Appearance tab inside your WP dashboard or by FTP upload.
PlainSpeed is a shared hosting environment which uses cPanel. There will be other tenants on the server, which is not optimized just for WordPress but for cPanel/WHM.
Firstly, the WPjane server is designed at code level just for WordPress.
Secondly, each WPjane is a standalone VPS server, giving your site more resources and power opposed to sharing the same VPS with a few other neighbors like in PlainSpeed.
WPjane is a uniquely-coded VPS server for WordPress sites, whereas janeVPS is essentially a blazing-fast VPS system you can install WordPress on. They are both fully-managed and depending on uses are equally value for money.
If your goal resides solely to load WordPress fast, you are best off with a WPjane plan. If you need to do other things on the server and don't need the same level of WordPress customization, HostJane's VPS range with janeVPS may be more suited.
It's entirely based on your website goals.
You will need to either use FTP to change files in your WordPress installation, or install a back-end file manager plugin.
Yes, free protection against denial-of-service attacks are included in every plan.
jane makes nightly backups of your entire server files and databases. We generally always have at least 2 past backups of your site in our system.
jane begins overwriting past backups, after 72 hours of storage. To request a restoration from a past backup, please contact us. There is a $15 data restore admin fee.
Note the restoration process can take up to 60 minutes and during that time your server may be unavailable.
Unlike other WordPress-specialty hosts that ban their users from installing certain plugins, we're not code snobs about what software you can and can't use on your own website. We're not going to try to stop you from using any particular plugin just because we think it will slow down your site or open you up to potentially serious security flaws.
Choose your plugins carefully
We advise WPjane customers to have a very careful read of available information on the WordPress plugins repository before installing any particular plugin on their WordPress site.
Give preference to plugins with a developer who is easy to contact and updates his or her plugin on a regular basis... look for a 'Last Updated' dateline within the last 1-3 months; hopefully over 5,000+ current uses; up-to-date WP version compatibility; and good reviews but take into account the prevalence of malicious trolls who may be trying to hurt an individual plugin developer's reputation by deliberating posting unfair reviews which sadly is a common issue for WordPress developers.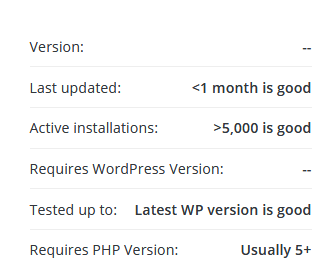 Plugins that are top-heavy with genuine bad reviews, including complaints about security flaws we would advise you to proceed with caution. If you really need a plugin with a lot of discomforting reviews, maybe try it on a test site first to satisfy yourself it's safe before installing so you can inspect the public complaints for yourself.
Always try to use the most up-to-date versions of plugins and themes at all times, and keep WordPress up-to-date. At the end of the day, it's your VPS so as long as you are abiding by jane's AUP and TOS, you can do what you like.
Please follow these instructions to set up your WordPress server. The first step is to point your domain to the server at your domain registrar by creating an A-record.
Important: An SSL browser warning appears during normal set up when you access your WordPress /wp-admin/ backend using HTTPS://
This is normal and disappears when SSL is installed.
HostJane's VPS servers use Address (A) Records, written for short as A-Records. They are part of the DNS or Domain Name System.
Whenever a surfer wants to visit your website, their computer asks your web domains' nameservers for the A-Record.
The A-Record at your nameserver maps to the IP address of your server, which is just a fancy way of saying the label (or, as geeks will tell you, Internet Protocol) of the HostJane server where your files are stored.
Once your visitor's computer has got back this information off the nameserver, their web browser can then connect across the internet to the server at HostJane where your website's files and databases are located. That's call a DNS Request.
Geeks call IP addresses, IP v4 addresses, because they are mostly written as 4 sets of numbers separated by dots, i.e. 111 . 222 . 333 . 444
All that really matters though is that your IP address, and A-Record, are totally unique to your HostJane server and help people find you on the internet.
It's very cool because no one would stand a chance of remembering your www.yourwebsite.com as a string of numbers, like 111.222.333.444.
To solve this problem, your domain's nameservers change computer talk into simple human words, which people can type into browsers like Google Chrome and Apple Safari to find you online.
Yes! After you purchase a WPjane plan complete this secure form to have our expert WP team migrate your WordPress site from your old host to your new WPjane server, 100% free of charge.
We will transfer your database, files, plugins and themes doing all the heavy lifting for you. Moving to WPjane is smooth and easy and requires zero technical skill.
---
If you intend to handle the WordPress migration yourself, we recommend ServMask, Inc's excellent All-in-one WP Migration plugin which reliably accomplishes the process of clean WordPress transfers in a few clicks.
No, WPjane is run directly on the server. Apart from the WordPress dashboard it doesn't include a server administration platform like cPanel/WHM or Plesk.
So all the things that cPanel has, like Webmail and File manager are not available.
If you feel you can't live without cPanel, you may be better off running WordPress with one of HostJane's Plainspeed plans, Cloud Hosting or on a VPS or Dedicated server, which can include cPanel/WHM hosting or similar options.
More optimized

—with a few exceptions, most average hosts don't have the system understanding of WordPress (or powerful server optimizations) that WPjane's server plans offer.

Faster as a process

—the speed is part of jane's building blocks of code, "her DNA". On the other hand most other hosts will just be using a cache system or software like LiteSpeed to streamline the architecture without paying special care to WordPress's unique needs.

More secure

—many other WordPress hosts just deploy servers without the same level of management. HostJane has trained IT professionals who are veterans in the hosting industry and know how to run servers from ground up at the datacenter.
We recommend phpMyAdmin to access your wordpress MySQL databases. For security reasons, phpMyAdmin has to be installed. It doesn't come automatically bundled with your VPS. There are 2 options.
1. You can install phpMyAdmin FREE yourself using this WPjane tutorial on phpMyAdmin which will enable you to access the database management tool securely through your browser.
2. Alternatively, open a support ticket to request HostJane install a secured version of phpMyAdmin for you on your WordPress VPS for a one-off $15 admin fee.
In short, extremely secure with multiple layers of physical and cyber protection.
Your server is held in a private Tier III datacenter which undergoes regular audits, and strict authorized access guarded by CCTV, retinal and fingerprint scans, and 24/7/365 on-site security. The facilities are also protected against flooding and fire, and backups are stored at different locations.
On the virtual level, both the datacenter and HostJane are continuously monitoring for suspicious activity and updating to guard against malicious cyber attacks.
This is a work-in-progress. At present each WPjane plan provides for a single, regular WordPress site installation that connects to 1 domain only.
We don't have a staging test environment available, but you can use the private eyes / firewall feature to control who can see your WordPress site.
Only the IP addresses you approve will have access to your VPS. Open a support ticket to add or remove IP addresses from your private whitelist.
WPjane modifies an Ubuntu 16.04 x64 linux distribution running NGINX in its web server layer in the LEMP stack. Therefore, WPjane doesn't use Apache.
Your WPjane server has installed the latest versions of PHP and MySQL.
Yes, you can choose to set up your WPjane VPS with an IPv6 address at checkout.
The issue is that only a small percentage of the internet currently supports IPv6 in comparison to IPv4, though HostJane supports it.
A dedicated IPv4 address is included with each plan.
Without disclosing too many trade secrets, this is how it works.
---
WordPress stores your content in files and MySQL databases on your WPjane server.
When a user requests to read your post, jane compiles the PHP files faster than other servers, using less resources.
jane sends the files to the PHP interpreter.
The interpreter runs the PHP code and sends the results back to her.
jane then outputs the results as HTML, or HyperText Markup Language, (the language that web pages are written in) to your users browser.
In the click of a button, your users load your content in a fraction of the time!
---
You can install WooCommerce free yourself, it's 100% compatible with WPjane. If you'd like an expert to pre-install WooCommerce professionally, our tech team can do this for you. The service entails making server-level changes to your VPS's configuration to streamline the server for WooCommerce settings.
There is a one-time $5 set up fee.
Assisted WooCommerce set-up occurs usually within 4 hours of purchase. We will configure your VPS with the native StoreFront theme so you get off to a fantastic start with your E-commerce venture. You can switch to any theme and remove StoreFront theme at anytime.